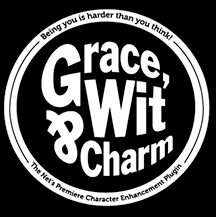 The Fiction
Grace, Wit & Charm '21
is a netprov — a real-time, role playing, creative writing game. It's a behind-the-scenes workplace comedy about a company called Grace, Wit & Charm that offers three services to heavy online users. "Grace" helps your avatar move more naturally by using live motion capture dancers, "Wit" ghostwrites jokes for your feeds, texts and chats if you have no sense of humor, and "Charm" is for the shy, helping you conduct relationships of all kinds. As the company says: "Being you is harder than you think!"

Players participate by pretending to be customers who briefly describe problems — whether it be upping their game skills to avoid social rejection, requesting a proxy to attend awkward family video calls, or needing help tele-firing a loyal employee — and then by reviewing how Grace, Wit & Charm's solutions helped their make-believe character (or didn't). During the special, April 2021, Grace, Wit & Charm Open House the curtain is lifted and players get to know some hard-working Character Enhancement Agents.
By collaborating in the playspace of this imaginary company you are helping build a collection of short fictions — a group portrait of our mediated lives. 
If you're new to Discord
Discord is a social media platform originally for games, that has become wildly popular for general use. It is structured around "servers" (in this case, the Grace, Wit & Charm '21 netprov) and "channels" (which are 'rooms' or 'forum discussion threads'). Basically, we have created a separate channel for each writing topic. As on other platforms, you can reply directly to a message, and tag particular people by using the @ and their handle (ex. @corporateoverlord). You can also change your display name.
Along with the text channels, there are also voice/video channels. These work like Zoom or other video conferencing software. When you join them, you can choose to toggle on/off your audio and video feeds. You can also see when someone is on one of those channels. 
Oh, and don't feel limited to text posts. You can post images or short videos. 😋And, you can react to other people's posts by clicking on the message and selecting from one of the available emojis. If someone else has reacted with an emoji, click on it to show you agree.
To join our Discord, you follow the invite link above, which will take you to the web version of Discord. Consider also downloading the desktop or phone app version for easier use. 
How to Play
1 Ask for help: Pretend to be a customer and write challenges
Submit challenges — requests for assistance from GW&C — based on online frustrations you see in everyday life. And maybe heighten things just a dash for comic (or dramatic) effect. Each challenge is written by a fictional character, each challenge is a micro-story. Be sensitive when creating your character, especially if they come from a background different than yours. Aim to make them a unique individual (not a type), with surprising skills and interests, just like a real person! Maximum 200 words.
For example:
Dear GW&C,
I need someone to go to my weekly family Zoom and pretend to be me, someone who can expertly deflect questions about my employment, my love life, my workout routine, and my theology for at least 90 minutes.
Signed: WoodsyMouse
Dear GW&C,
My friends spend a ton of time online playing Mayhem and Misery 3, laughing and catching up and having fun. I want the friendship but I hate M&M3 and I'm no good at it anyway. Can you do the gameplaying part while I do the talking part?
Signed: AdultingThisTime27
2 Check back to see a GW&C employee has any follow-up questions for your character 
3 Write a review of GW&C's solution; what happened when you tried it?
GW&C will endeavor to propose at least one solution to every challenge; if more than one is proposed — you get to choose! But even if GW&C isn't able to respond, you can pretend that they did! Write a review of your GW&C customer experience. How did we do? Did we help?Or did we . . . well . . . you know . . . ? Maximum 200 words.
4 Can I keep playing the same customer-character and propose new challenges?
That can be great fun! It gives you the chance to develop your character more fully and give them a rich backstory. What is their life like, online and offline?