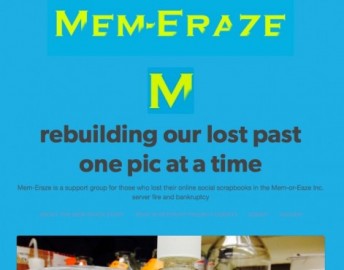 The Big Idea
Mem-Eraze is a support group for former customers who lost their online social scrapbooks in the fictional Mem-or-Eaze Inc. server fire and bankruptcy.
Members begin to re-create their lost images with tabletop photography of everyday objects accompanied by expressive captions describing vacations, weddings and other key events.
Rules of the Game
Featured players were organized into families and brainstormed and developed their characters and relationships. They used everyday objects to compose and photograph scenes from family history. They were encouraged to shoot from low angles and frame pictures in ways that mimic everyday photography. They were encouraged to avoid too many product names and logos. Then they wrote captions to illuminate the fictional moments captured by the images. Players were encouraged to use information from other captions in their own, to weave an interconnected fiction.
Where to Find "Mem-Eraze"